It's officially summer and time to get a tote bag ready! I plan to hit the beach this year and I can seriously cannot wait.
I used SoSoft fabric paints by DecoArt and a fabric marker by Tulip to alter my bag. I don't think this paint was intended for portrait painting but I thought I would give it a shot.
I started with a simple pencil sketch and then outlined it.
My process...
Trace around a dinner plate to get the circle.
Sketch the face with a pencil.
Outline with a fabric marker.
Water down paint for the flowers. Start at the tip of the petal and put down color. Gradually fill the petal ending with white at the center. Paint the leaves in the same way starting with yellow and ending with green.
Paint the hair in circular motions.
Add paint to the face with the color of your choice.
When painting the lips start on the outer edges. Leave the middle of the bottom lip open for a highlight color.
Let it dry and add another layer to the face and hair. Touch up the marker lines as needed.
Doodle flowers in the background.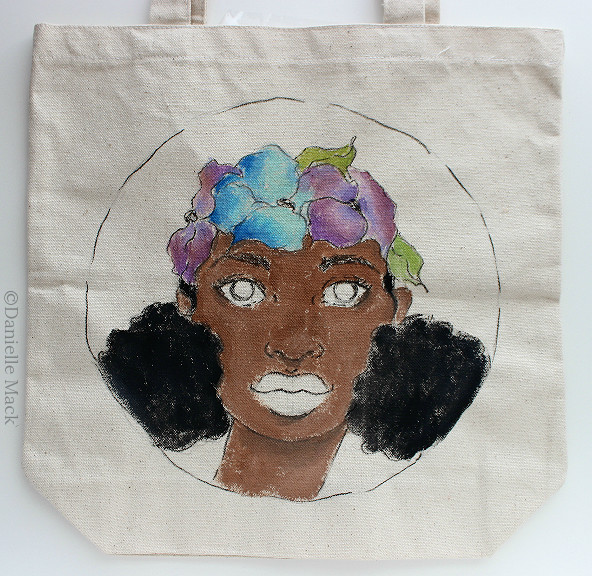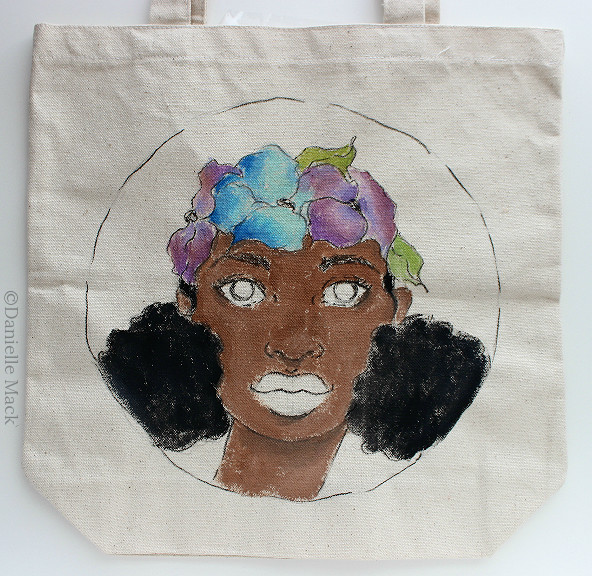 First impression: extremely vibrant colors! I was kinda surprised and had to tone some of them down. I was able to get some really nice blending on the flowers by placing a color down next to the one I wanted to blend and gradually dragging them together. My paint was watered down so this did take a few layers. I was working on a heavy duty tote bag and it kept soaking up the paint.
When I first got the bottle I thought it would be too small but a little goes a long way. Be sure to shake them up before hand. Even after they are watered down the vibrancy is still there. I plan on making more of these for friends. I highly recommend you try it out.
This fabric marker grew on me...I didn't like it at first but I'm happy with the results and recommend it. Just keep in mind you will have to layer your lines depending on the type of fabric you use.
You are still able to see some of the canvas showing through the paint but I don't mind. The next day the paint doesn't have that crusty feel. Maybe I'll paint some shoes next...
Is there a way to seal this? Scotch Guard maybe? If you've used this paint let me know in the comments! This post was sponsored in part by DecoArt as I am on their blogger outreach team. Thanks for stopping by!
Don't know how to draw faces? Click below!